The Threadneedle (Lux) Social Bond Fund is a credit fund with an evidence-based sustainable outcomes approach aligned with the 17 United Nations Sustainable Development Goals (SDGs). It unlocks the full potential of corporate bonds with the aim to deliver both financial and social returns, with daily liquidity. The approach is based on bottom-up, fundamental financial and social analysis and emphasis on downside risk management. The fund enhances social outcomes through mainstream markets and social outcomes are independently assessed via our partnership with INCO.
Fund Inception date:
23 May 2017
Benchmarks notes:
Composite index comprising:
50% ICE BofA Euro Non-Sovereign;
50% ICE BofA Euro Corporate Euroland Issuers
Investing in positive social outcomes
Over the year, we have invested in organisations and bonds delivering and enabling tangible impact.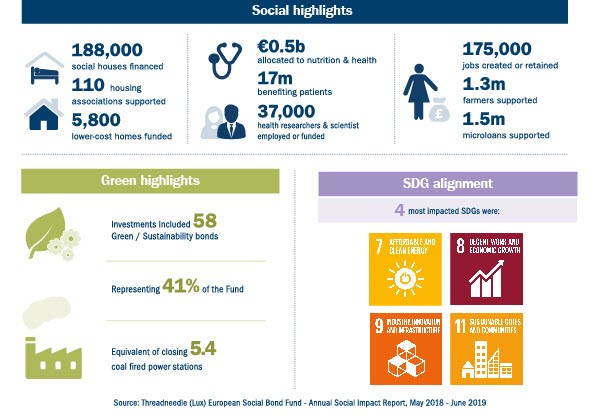 Annual Social Impact Report
Jaarlijks verslag over de maatschappelijke impact
Jaarlijks verslag over de maatschappelijke impact
Innovative approach: The fund unlocks the full potential of bonds with the aim to deliver both financial returns and positive social outcomes. Using a dynamic social research methodology to guide investment decisions, the portfolio manager actively sources bonds that combine clear social benefits with sound financial attributes.
Strength in partnership: Our strong reputation across both fixed income credit and social investment is enhanced by our social partnership with INCO*, an organisation focused on the European social economy and a leader in assessing sustainable social businesses.
Proven track record in social bond investing: We have managed outcomes-focused social bond strategies for over three years and have delivered risk-adjusted returns for our investors.
Outcome-focused approach aligned with SDGs
We use an outcomes-focused approach to deliver both social and financial returns. We first identify bonds that offer potential to deliver outcomes across a hierarchy of seven social development needs (see image above), to form a European-based social universe of approximately 1,900 securities. This potential investable universe represents around 45% of the benchmark index constituents, which is supplemented by selective off-benchmark bonds. Investment opportunities are categorised according to the type of impact they offer, and each is also rated according to the social focus and characteristics of the outputs.
The assessment of outcomes
In parallel to this our Investment Grade Credit team evaluates these bonds using our established credit research process to ensure that investment ideas meet the necessary financial and liquidity requirements for inclusion within the portfolio. The fund's social partner INCO further researches and assesses the social outcomes of investments made, as well as forming part of the Social Advisory Panel to review, advice and monitor the fund's investments from a social performance perspective. This ensures that resulting outputs, outcomes and impacts are framed against a widely recognised framework developed for the EU Commission. This will shape the final assessment of the social benefit and outcome and form the basis on which INCO will assess and report on the social performance of the investments and fund.
Alignment of Social Bond strategy focus with UN SDGs
The UN launched the SDGs in 2015 as a framework of sustainable development priorities and have emerged as a potential guide for investing towards a more sustainable world for investors and governments alike, by signposting global development priorities*. The Threadneedle (Lux) European Social Bond Fund is aligned with these UN SDG's and each bond is analysed on a top down basis to determine whether outcomes are aligned with the seven social outcome categories defined for this fund.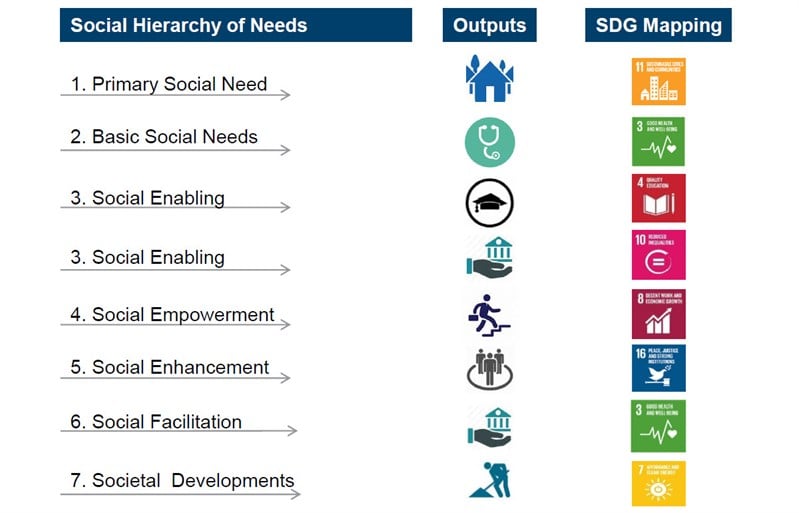 Director of Responsible Investment Portfolio Management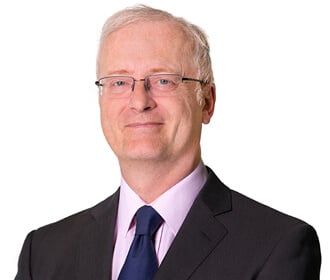 Director of Responsible Investment Portfolio Management
Simon Bond joined the company in 2003 and has been the portfolio manager of the Threadneedle UK Social Bond Fund since its launch in 2013, as well as the Threadneedle (Lux) European Social Bond Fund which launched in 2017. Having previously managed a number of institutional and retail investment grade corporate bond portfolios, Simon now concentrates his focus on managing Columbia Threadneedle's social bond portfolios and developing other responsible investment strategies across the firm.
Simon has 34 years' experience in the fund management industry, with the last 29 years specialising in corporate credit. Throughout his career, Simon has taken a keen interest in the social investment space and as an analyst the first entity Simon reported on was Peabody Trust and the first sector he covered was housing associations. Simon is particularly passionate about the role of infrastructure in both regeneration and economic growth.
Prior to joining the firm, Simon managed £6 billion in his role as the Senior UK Credit Fund Manager for AXA. Simon also worked for GE Insurance as a Portfolio Manager, Provident Mutual as a Fixed Income Analyst and Hambros Bank as an Investment Accountant and Pension Fund Investment Administrator.
Simon is a Fellow of the Chartered Institute for Securities and Investment, holds the Investment Management Certificate and the General Registered Representatives Certificate.
The value of investments can fall as well as rise and investors might not get back the sum originally invested.
Where investments are in assets that are denominated in multiple currencies, or currencies other than your own, changes in exchange rates may affect the value of the investments.
The Fund invests in securities whose value would be significantly affected if the issuer refused, was unable to or was perceived to be unable to pay.
The fund holds assets which could prove difficult to sell. The fund may have to lower the selling price, sell other investments or forego more appealing investment opportunities.
Most bond and cash funds offer limited capital growth potential and an income that is not linked to inflation. Inflation is likely to affect the value of capital and income over time.
Changes in interest rates are likely to affect the fund's value. In general, as interest rates rise, the price of a fixed rate bond will fall, and vice versa.
The fund's as sets may sometimes be difficult to value objectively and the actual value may not be recognised until assets are sold.
DERIVATIVES FOR EPM / HEDGING
The investment policy of the fund allows it to invest in derivatives for the purposes of reducing risk or minimising the cost of transactions.
The fund may exhibit significant price volatility.
For use by Professional and/or Qualified Investors only (not to be used with or passed on to retail clients). Past performance is not a guide to future performance. The value of investments and any income is not guaranteed and can go down as well as up and may be affected by exchange rate fluctuations. This means that an investor may not get back the amount invested. Threadneedle (Lux) is an investment company with variable capital (Société d'investissement à capital variable, or ""SICAV"") formed under the laws of the Grand Duchy of Luxembourg. The SICAV issues, redeems and exchanges shares of different classes. The management company of the SICAV is Threadneedle Management Luxembourg S.A, which is advised by Threadneedle Asset Management Ltd. and/or selected sub-advisors. This material is for information only and does not constitute an offer or solicitation of an order to buy or sell any securities or other financial instruments, or to provide investment advice or services.
"Subscriptions to a Fund may only be made on the basis of the current Prospectus and the Key Investor Information Document, as well as the latest annual or interim reports and the applicable terms & conditions. Please refer to the 'Risk Factors' section of the Prospectus for all risks applicable to investing in any fund and specifically this Fund. Documents other than KIIDs are available in English, French, German, Portuguese, Italian, Spanish and Dutch (no Dutch Prospectus). KIIDs are available in local languages. Documents can be obtained free of charge on request by writing to the management company at 44, rue de la Vallée, L-2661 Luxembourg, Grand Duchy of Luxembourg, from International Financial Data Services (Luxembourg) S.A. at 47, avenue John F. Kennedy, L-1855 Luxembourg, Grand Duchy of Luxembourg, from www.columbiathreadneedle.com and/or from Belgium: CACEIS Belgium S.A., avenue du Port 86 C b 320, 1000 Brussels.
The mention of any specific shares or bonds should not be taken as a recommendation to deal. The fund characteristics described above are internal guidelines (rather than limits and controls). They do not form part of the fund's objective and policy and are subject to change without notice in the future.The analysis included in this document has been produced by Columbia Threadneedle Investments for its own investment management activities, may have been acted upon prior to publication and is made available here incidentally. Any opinions expressed are made as at the date of publication but are subject to change without notice and should not be seen as investment advice. Information obtained from external sources is believed to be reliable but its accuracy or completeness cannot be guaranteed.
Threadneedle Management Luxembourg S.A. Registered with the Registre de Commerce et des Societes (Luxembourg), Registered No. B 110242 44, rue de la Vallée, L-2661 Luxembourg, Grand Duchy of Luxembourg. Columbia Threadneedle Investments is the global brand name of the Columbia and Threadneedle group of companies.
INCO is an investment firm with nearly a decade-long track record investing in socially inclusive and environmentally sustainable enterprises with compelling financial returns. Through both an international network of start-ups, support programmes, as well as local expert teams, INCO provides long-term equity and quasi-equity, from seed to growth stages. INCO complements its financial investments with strategic and technical assistance to support the growth, development and impact of its portfolio companies. INCO acts as an independent advisor of the Fund, providing its expertise in the field of social and environmental evaluation. They are responsible for researching and assessing the social outcomes of investments made in the European Social Bond Fund on a post-trade basis, as well as forming part of the Social Advisory Panel to review, advise and monitor the fund's investments from a social performance perspective. They also produce the annual impact report for the Fund. This partnership shows a common desire to support organisations that make a positive change in their community, whether they are companies, local authorities or non-profit organisations.
The LuxFLAG ESG Label is valid for the period ending on 1 October 2021. Investors must not rely on LuxFLAG or the LuxFLAG Label with regard to investor protection issues and LuxFLAG cannot incur any liability related to financial performance or default.
Millions of people around the world rely on Columbia Threadneedle Investments to manage their money. We look after investments for individual investors, financial advisers and wealth managers, as well as insurance firms, pension funds and other institutions.
Columbia Threadneedle Investments has a comprehensive range of investment funds catering for a broad range of objectives.
Teamwork defines us and is fundamental to our investment process, which is structured to facilitate the generation, assessment and implementation of good, strong investment ideas for our portfolios.